Machine shorthand can be traced back to 1910 when Ward Stone Ireland developed a typing machine that would print several letters, even a whole word, at one stroke of the keyboard.
Ward Stone Ireland, an American inventor, is considered to be the 'father' of the modern shorthand machine. While using a typewriter, he saw the immense potential of a machine that would print several letters, even a whole word, at one stroke of the keyboard. After several years of experimenting with different keyboards, in 1910 he patented a machine and established the Universal Stenotype Company, which manufactured the machine, and also trained teachers in the use of the machine shorthand system.
In 1914, the company's management decided to enter some of its students in the National Shorthand Reporters Association speedwriting championships. Nine teenagers (aged 15 to 19) competed with 30 experienced pen-writing court reporters. These young people captured nearly all the honours in speed tests of 150, 200, 220 and 280 words a minute.
Famous Reporters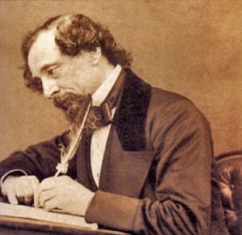 The most famous Court and Parliamentary Reporter is Charles Dickens (1812-70), the distinguished British novelist. Dickens documented his career in the British Courts and Parliaments in his novel, David Copperfield, which was largely auto-biographical. His struggle and exhilaration in mastering the theory of pen shorthand are recorded in his letters, now published.
Another famous reporting career worth noting is that of the American pioneer reporter, Walter Heironimus, who was a member of the machine reporting team at the Lindbergh baby kidnapping trial in 1933. He became the first official court reporter in the New Jersey courts to use machine shorthand, and, possibly, he was the first official reporter in the United States to do so.
Harvey Keitel, known for his roles in Martin Scorsese and Quentin Tarantino movies, worked as a freelance court reporter in New York City for several years after he left the marines.  He found stenography came easily to him and he quickly graduated.
In recent times, machine shorthand reporters were seen in the televised O.J. Simpson murder trial in the mid 1990s, and appear today in the television news reporting many Australian and international government tribunals, court proceedings, royal commissions, even politicians' press conferences.